Color trend forecasters seem to agree on one thing for 2016. We're all in need of deep serenity. So here's a look at some traditional rooms that speak to classic, but totally au courant calm.
Cook's Paradise
Green is also being in kitchen cabinets. Here, a nature-inspired hue coats the cabinets. It's complement by cool gray granite countertops and more natural shades in the backsplash tile.
Green Day
An antique hutch and refinished dining table contrast nicely with smooth green walls in this dining room. The soft shade lets collected pieces visually pop from shelves. White on the ceiling, trim, and slipcovered chairs keeps the green pleasing, never overwhelming.
Nature's Neutral
PPG went a different, though still clear, direction with its pick, "Paradise Found." The organic eucalyptus green with blue undertones brings the calm of nature to a room. Here, the pair of sofas from Donghia are covered in green "Oxytone" fabric from Donoff Textiles, making this family room comfortable and inviting. The "New Leaf" Rug was custom-colored to complement the room's palette.
Seated in Elegance
Soaring white wall creates a breathtaking dining space in this North Carolina home. The white canvas is a perfect backdrop for precious woods, like those seen in the classic Rose Tarlow table and legs of contemporary upholstered armchairs.
Sparkle & Shine
Art—and even cookware—provides the hits of color in the kitchen of this home designed by Bradshaw Orrell. Oversize glass vessels and a nice smattering of silver bring shimmer—and plenty of interest—to the white space.
Serene Scheme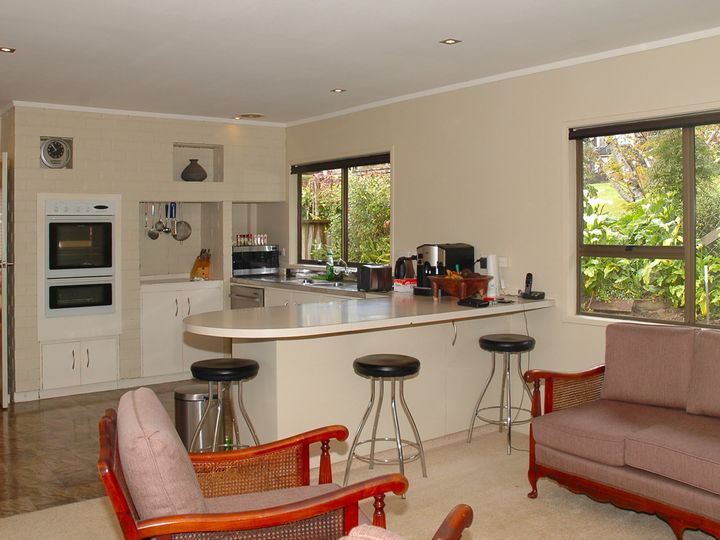 Benjamin Moore and Sherwin-Williams concurred with the conclusion that some calm is in order. They chose "Simply White" and "Alabaster," respectively, for their colors. Some compliance, "Is white even a color?" But these white, with their warm undertones, make sense. Space to clear our minds and rest our screen-fried eyes can be a real thing. And while you can go all-white for an ultra-soothing scheme, the other option is a white canvas that allows bold hues on fabrics or accessories to pop—just look at the art in this chic, quiet family home.
Bed of Roses
This master bedroom's centerpiece iron bed stands out against a soft backdrop created by light rose wallpapers. A deeper shade of rose on pillows, the table covering, and the curtains keep the rooms from going flat. White bedding and a splash of yellow in modern art lend a fresh note to prevent a saccharine feel.
Girly Getaway
Bush doesn't have to stop at the draperies. For this elegantly feminine guest bedrooms, designer Jan Showers also splashed the color onto walls. A sophisticated blush hue is an excellent choice: It complements any skin tone to make the occupant of the room look lovely.
Fashionably Dressed
Blue brings a soothing mood to this dressing room Designed by Gray Walker. The color is a pleasing contrast to the adjoining bedroom, which is white, but still creates a calm that's perfect for starting and ending each day
Beautiful in Blue
Sumptuous drapery fabric brings the blue into this living room of a Beaux Arts-style mansion in Chicago, once owned by Playboy founder Hugh Hefner. The hue ups the elegance of the room's rich ivories.